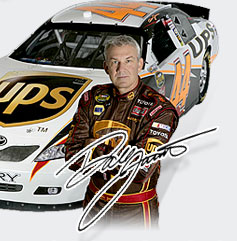 The Dale Jarrett Racing Adventure racing school is a Stockcar driving school in which you will learn to drive a real racecar used in Stockcar racing. What could be a better gift for a husband, father or loved one than driving over 165 MPH on the Talladega SuperSpeedway? Our Driving Experience is a real racecar driving school that will teach you how to drive like a Pro. You can also participate in a high speed ride along at any one of our "racing schools" on race tracks across the USA.
The Dale Jarrett Racing Adventure is located at the Las Vegas Motor Speedway. The speedway is a major destination for motorsports entertainment such as NASCAR. The Speedway is located just outside of Las Vegas Nevada, about 15 minutes from the downtown (Fremont Street) area and about 25 minutes from the Las Vegas Strip.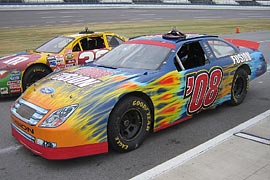 The facility is a complex encompassing 1,300 acres in the desrt area just north of Las Vegas, Nevada. The raceway itself consists of a one and a half mile long oval that offers seating for over 100,000 fans. There is also a 3/8 mile oval called the "Bullring". There is also a 2.5 mile course, a 1.3 mile course. The raceway also offers a 1/4 mile drag strip and a stadium truck racing course as well as a three quarter mile kart sprint course. There is also a 10 mile off-road course.
The Dale Jarrett Racing Adventure is an experience like no other. This is not a simple process of just jumping into a powerful car and driving as fast as possible. Your day at the races will encompass the entire experience of being a high speed race car driver. You'll be take through all the same processes and procedures that the pros do. Everything from your safety briifing to suiting up, you'll be given the entire experience. One you will never forget.
Your Day At The Races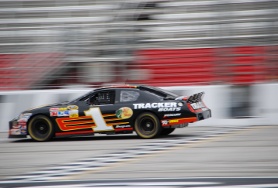 Driver Orientation
Once all the guests have arrived and registered, driver orientation begins. A Dale Jarrett racing school instructor covers the hand signals used, how to enter and exit the track, driving a race car, finding your line, passing, drafting, and more. By the end of this session, you have everything you need to begin a safe race car driving experience, drive a race car and start an exciting racing experience.
Driver Orientation Recap
Now that you are familiar with the proper driving lines and hand signals, the instructor will recap all of the safety features of the racecar. He will then demonstrate how to properly drive a race car, enter and exit the racecar. Finally he will then answer any questions you may still have. Remember, there is no such thing as a stupid question. We want to make sure you are completely comfortable with all of the information you have learned.
Suiting Up
Now off to fitting, where you will suit up in a Dale Jarrett Racing Adventure fire-retardant racing suit over your clothes. You're also fitted with a properly sized full face Bell helmet and Hans Device.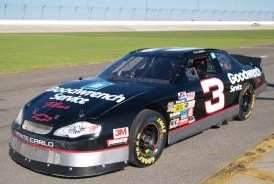 Climbing Into the Driver's Seat
Once your racecar is ready and your gear properly adjusted, it's time to climb into the driver's seat. After a few pit-side photo shots by our on-staff photographer - who will have the photos available for purchase later in the day - our staff gets you strapped into a vehicle capable of 180 miles per hour. We ensure that you're comfortable and correctly restrained in a 5-point harness and Hans safety device, and then you're ready to race!
Racing The Track
Using a series of simple hand signals that you learned during orientation, the instructor guides you out onto the track and works with you on accelerating, braking, moving up and down the track, and finding your fastest line. Safe and secure, you're free to enjoy this once-in-a-lifetime thrill of driving an authentic NASCAR race car on a legendary Superspeedway. You draft and pass the other drivers, and as your confidence grows, the instructor's guidance helps increase your speed with each lap.
With your loved ones on the sidelines watching you experience the once-in-a-lifetime thrill of a heart-pumping, white-knuckle race car drive, you focus on the track ahead while the roar of the engine drowns out every other thought. When you finally step out of the racecar to the cheers of your family, you feel like a kid again, and nothing can ever erase that memory. That's "Full-Throttle Living."
After Your Adventure
When the checkered flag waves, it's back into the pits and out of your safety gear. Now you can stop by one of our trailers to purchase photos and DVDs of your racing experience shot by DJRA's track photographer and our on-board video cameras. The best thing you'll take away with you, though, is the memory of your once-in-a-lifetime adventure…unless, that is, you want to come back and do it all again.